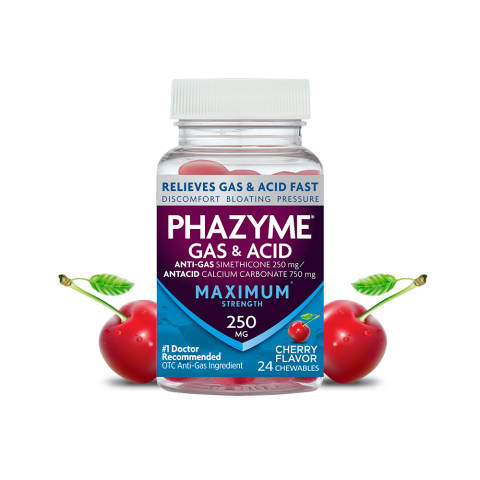 Phazyme® Maximum Strength* 250mg Chewable Gas & Acid Relief
When you need serious gas and acid relief, Phazyme® delivers a 2 in 1 chew. It's the strongest* gas-relief without a prescription PLUS heartburn relief that goes to work in seconds, with a great-tasting cherry flavor.
What's Good to Know
The strongest gas-fighting medicine per two chews, PLUS fast-acting heartburn relief
Antacid goes to work in seconds
Great-tasting cherry-flavored chew
Relieves gas pressure, bloating and heartburn
*The strongest dose of gas relief when taking 2 fast gels
USES
Pressure and bloating commonly referred to as gas
Acid indigestion
Heartburn
Sour stomach
Upset stomach associated with these symptoms
DIRECTIONS
Adults and children 12 years and older: chew and swallow 1 to 2 chews as symptoms occur or as directed by a doctor.
INGREDIENTS
Calcium carbonate 750mg
Simethicone 250mg
WARNINGS
When using this product
Do not take more than 2 chews in a 24-hour period
Do not use the maximum dosage of this product for more than 2 weeks except under the advice and supervision of a doctor